《氤氳·象》Flowing Fragrance Upon Calligraphy. 徐永進 展
__三個展覽場域,三種不同演繹__
《氤氳·象》由策展人陳彥璋以香學文化精心導入在三個展覽場域,各自演繹香禪、香爐、與香道,並成為渠道來進入徐永進氤氳而象的世界,領略徐永進『當下即是』書藝的箇中美妙,感受香學與書法所共同演繹的「天地絪縕,萬物化醇」,在爐香氣息與水墨氣韻的豐饒中,統攝深邃而幽玄的美感意識。
(II)

意識畫廊 Yesart Gallery | 香爐
(III)

綠境藝廊Rhythm Art Gallery | 香道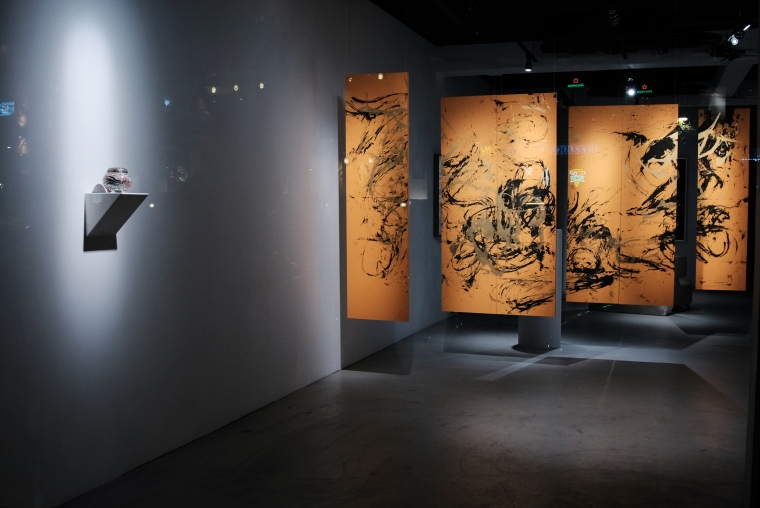 簡介
水墨現場INK NOW | 香禪
除了徐永進作品展場外,特別邀請韓國香齋的孫熙東先生,指導製作五米直徑的圓形香室,以觀爐鼎香的煙象將水墨書藝的抽象思維具體展現為可觀可感的現下氛圍。一場8人,每場十分鐘的體驗請預約排隊入場
意識畫廊 Yesart Gallery | 香爐
於意識畫廊的展出,策展人經由徐永進的水墨書藝「呈理來釋象」,運用爐鼎聖數「詮象來達理」。展出的香爐精選日本百年工藝名家的作品,難得一見。
綠境藝廊Rhythm Art Gallery | 香道
深諳日本香學與文化的策展人陳彥璋,於綠境藝廊策劃為從書藝入道,照亮自然;從煙雲入理,觀生自在,二者互攝互融!在爐香蘊生氣息,以及水墨展陳氣韻的同時間,統攝著深邃而幽玄的美感意識。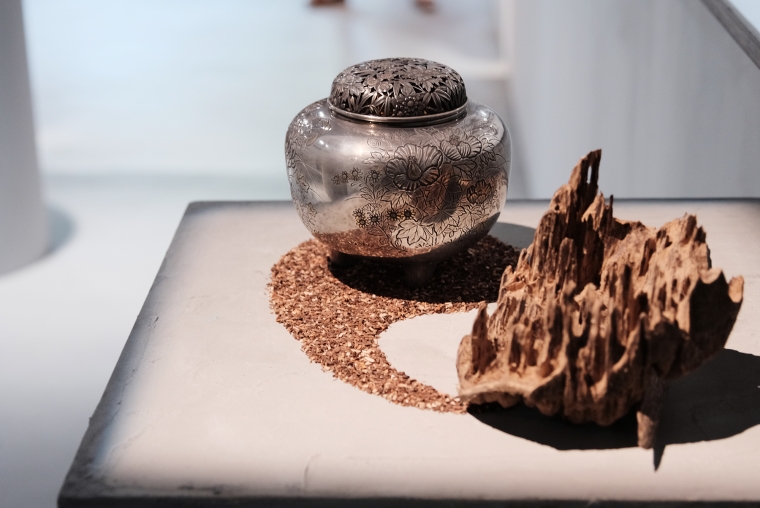 《氤氳·象》徐永進
文/策展人 陳彥璋
省察中國書畫藝術,鑑賞家總會詮解出水墨裡觀照的時空。其中的平衡,從動靜生滅、從形而上下、從主客形式、從源理發展來談者,此起彼落。據此自然循環,得以飛升、得以臨在、得以照見,得以覺知;就是得以堪合「數、象、理、義這四方維度」的水墨書藝,才是本立而道生的內省理據:藝貫通以一,善匯成陰陽,持養自大道。徐永進「當下即是」的書寫創意,不斷成就著文人風骨、實驗美學、以及當代真際的水墨現場。
與此共生的氤氳象,是本展覽的意欲;探求「墨韻律動的種種能與所」,經由顯化「永恆回歸」中抽象與實相的現觀/表象,水墨藝術以冀呼應香爐與其事;莊嚴書墨之神氣於返影至淬煉,旁舉爐臺之隱喻於奧妙至意符!徐先生水墨宛如香韻,共乘書法之無為與香韻之勝理,讓易理之浩然圓成絪縕之自然!
俯仰觀之,徐永進的水墨有其主張。先以「書即藝」來深入藝術性,再以「藝即心」來顯出自立性。前者的藝術性,精拙於老莊,直指後設倫理的空無!後者的自立性,默契於易理,引發心智模型的樸實!一方面,用三教演繹「象數」,說明藝術性就在世道精神;另方面,化三才歸納「義理」,指陳自立性合於超越境界。綜合以上,同步發揮水墨的方法與觀念,勤勉承事水墨書畫的不一不異,融入醒察來勝發當代水墨,這般的不二法門道成徐永進的實證覺活。
本展現場分為三部分:(I)水墨現場、(II)意識畫廊、(III)綠境藝廊,各自演繹香禪、香爐與香道,以此展證成「天地絪縕,萬物化醇」(《易經·繫辭下》)。事實上,經由水墨書藝「呈理來釋象」,運用爐鼎聖數「詮象來達理」。換言之,水墨或香煙的出塵異象,比若絪縕,在「吐納之間」如登無極天元。從書藝入道,照亮自然;從煙雲入理,觀生自在,二者互攝互融!在爐香蘊生氣息,以及水墨展陳氣韻的同時間,統攝著深邃而幽玄的美感意識。


Flowing Fragrance Upon Calligraphy.
Artist: Hsu Yung Chin
Curator: Chen Yan Zhang
Considering Chinese artistry on painting and calligraphy, a connoisseur has to interpret the time and space visualized in Ink-art. As a sequence, this Ink-art goes on in-between balancing, such as movement vs stillness, birth vs death, physics or metaphysics, its subjective or objective forms, its theoretical originality or development, and so on. Therefore, corresponding to Nature's circulation, Chinese Ink-art comes to its adventing, descending, foreseeing, witnessing, and after all, its exploring "Tao's four dimensions". That is, number/Shu, image/Xiang, rationality/Li, and dialect/Yi are altogether as well. These four jargons disclose the initiating, authentic ideal goals of Chinese Ink-art: construing artistic unity, converging yin with yang, and cultivating Tao itself. Definitely, Hsu Yung Chin has achieved this "being within becoming," which keeps on identifying a literati style, an experimental aesthetics, and a contemporary nowness through his creativity.
Meanwhile, this exhibition may reach a co-existing desire, namely, a rhythmic harmony for "all kinds of energy and sphere". Through revealing "eternal recurrence," Mr. Hsu fulfills Chinese Ink-art with the craft of incense burner and fragrance. These representations, both abstract and realistic, solemnly reflect the distilled spirits of Ink-art, and also get along with the mystic metaphors on incense furnace and emblem. On the whole, Mr. Hsu's calligraphy unexpectedly reincarnates the awe-inspiring Life from Yi-Ching, and transcendentally manifests the prevailing fragrance from Mother Nature.
Philosophically thinking Chinese Ink-art, Mr. Hsu acts out his own principles. First, "calligraphy is homing in on artistry ". The depth of Ink-art depends on exerting artistic quality. Secondly, "artistry is derived from heart". The awareness of heart brings out self-reliance. Artistry, the former, indicates Lao-Zhuang and depicts its emptiness on meta-ethics. Self-reliance, the latter, displays Yi-Ching and reveals its simplicity on mental-mode. For one thing, imagery numerology /Xiang-Shu means fusing the three Religious Teachings, so artistry presents our time-spirit/Zeitgeist. For another thing, rational dialectics /Yi-li emanates the Three Elements, so self-reliance epiphanies its transcendental realm. On the whole, Hsu Yung Chin simultaneously develops Ink-art concepts and methods. His artistic endeavors integrate both painting and calligraphy heritages. Then he merges empirical sensibilities into contemporary Ink-art. The one and only way for Ink-art leads to Hsu's dramatic, pragmatic commitment.
This exhibition will be divided into three sites: (I) INK NOW, (II) Yesart Gallery, (III) Rhythm Art. Each field provides interpretations of Incense Zen, Incense Burner, and Incense Lore. The justification for this exhibition lies in the great treatise of Yi-Ching: "Heaven and earth are filled with generating, overflowing vigours. Therefore the living beings abundantly transform into various forms and refine themselves as well" (Yi-Ching, Xi-ci section II). Obviously, Ink-art will focus on conceptual art; namely, "rationality elaborating imagery presentation". Relatively, incense burner is used to sacred numbers; namely, "numerous images fulfilling rationality". In other words, Ink-art and incense aroma will construct a metaphysical vision, a plentiful breathing for elevating ourselves to the highest. By means of Ink-art calligraphy, Nature exactly pervades shining lights within. By the fragrant breath of incense mist, people suddenly figure out contemplating at ease. The mutual wisdom combines strongly. While the incense burner breeding fragrant smells, and the Ink-art arising sublime spirit and vitality, the secluded, tranquil profoundness will always be unified as our aesthetic consciousness.